First impressions of Apple Classical
As 2022 progressed and 2023 dawned, some thought Apple Classical wouldn't arrive. Finally, in March 2023, it was announced that the app would be released on our phones (but not iPads or Macs) by the end of the month.
I've had only a tiny exploration of Apple's take on a music app designed to elevate classical music to centre stage. From what I can see, Apple has created an app that is easy to use and has a surprising depth. Of course, there is room for improvement, but it is a fantastic start for the app. It is great to see Apple release despite this app being aimed at a minority of Apple Music subscribers (although hopefully a sizeable one).
How is Apple Classical different?
I've seen many threads on Reddit and other forums from people with no knowledge or interest in classical music posing questions about why it needs its own app. After all, classical music can be found in the main Apple Music app.
The difference is clear to see with a simple example. Type "Spring" into Apple Music and Apple Classical.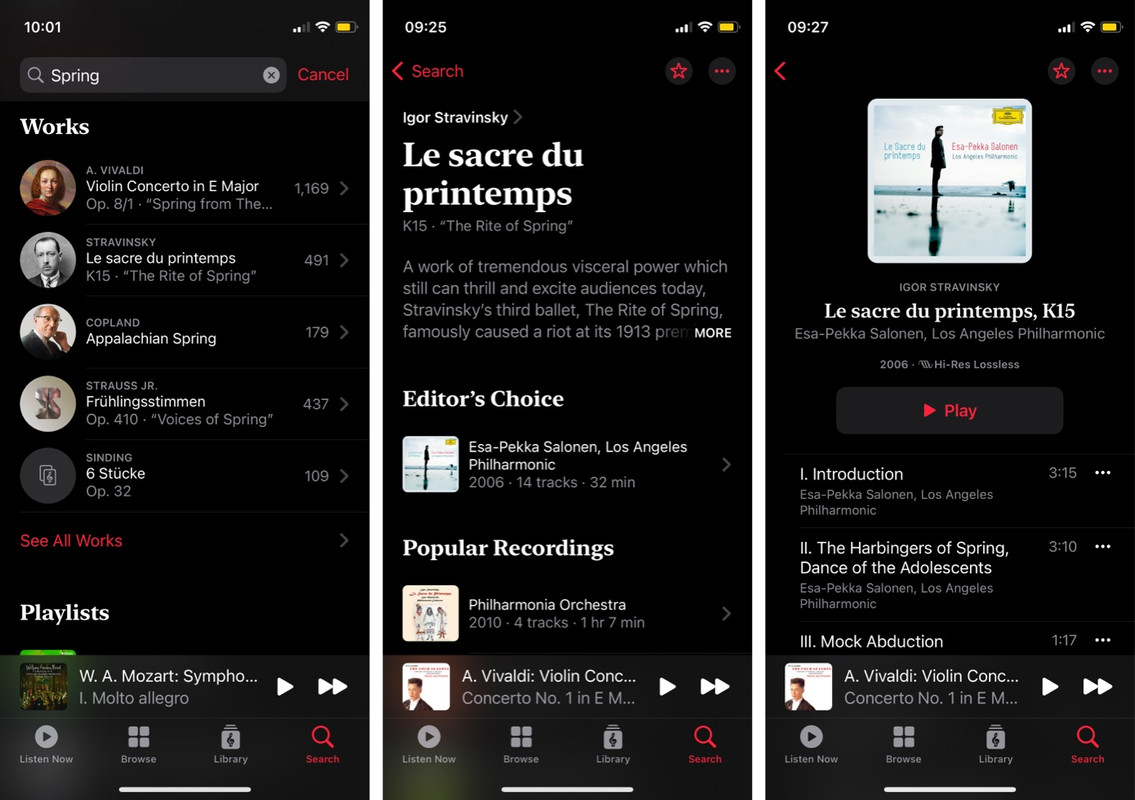 In Apple Music, you get a 'song' by Vivaldi, but also from Two Door Cinema Club, Saint Etienne, Angel Olsen and a little further down, a single example of an album containing Vivaldi's "The Four Seasons". If, as a classical music fan, you aren't interested in the slightest by most of these results all you see is clutter.
In Apple Classical, however, you'll be presented with a list with clear headings:
Composers
Artists

Ingeborg Springer
Budapest String Quartet
Borodin Quartet

Works

Vivaldi, Violin Concerto in E Major "Spring from The Four Seasons"
Stravinsky, Le sacre du printemps "The Rite of Spring."
Copland, Appalachian Spring
Strauss Jr., Fruhlingsstimmen "Voices of Spring"
Sinding, 6 Stucke

Playlists

Classical Spring
Danish String Quartet Essentials
Emerson String Quartet

Albums

Schumann: Symphony No. 1 "Spring"
...

Tracks
Assuming that you were looking for The Rite of Spring, you can tap the work, and you'll see:
Some text introducing the work, excellent if you are new to the piece or want to learn more about its composition and context
An editor's choice recording
Popular recordings
Related works
When you select a recording, you'll see a subset of the tracks on the album to listen to your desired work. Finally, word wrapping is used, so that track names are no longer truncated - this is a massive deal! When a particular track of playing, you get a detailed overview. The number of details varies but typically includes:
Composer
Work
Catalog number
Movement
Orchestra
Artist
Record label
Released
Where possible, the information is hyperlinked - for example, tapping the work will take you to a list of other recordings, or the orchestra will take you to a page with that orchestra's latest albums.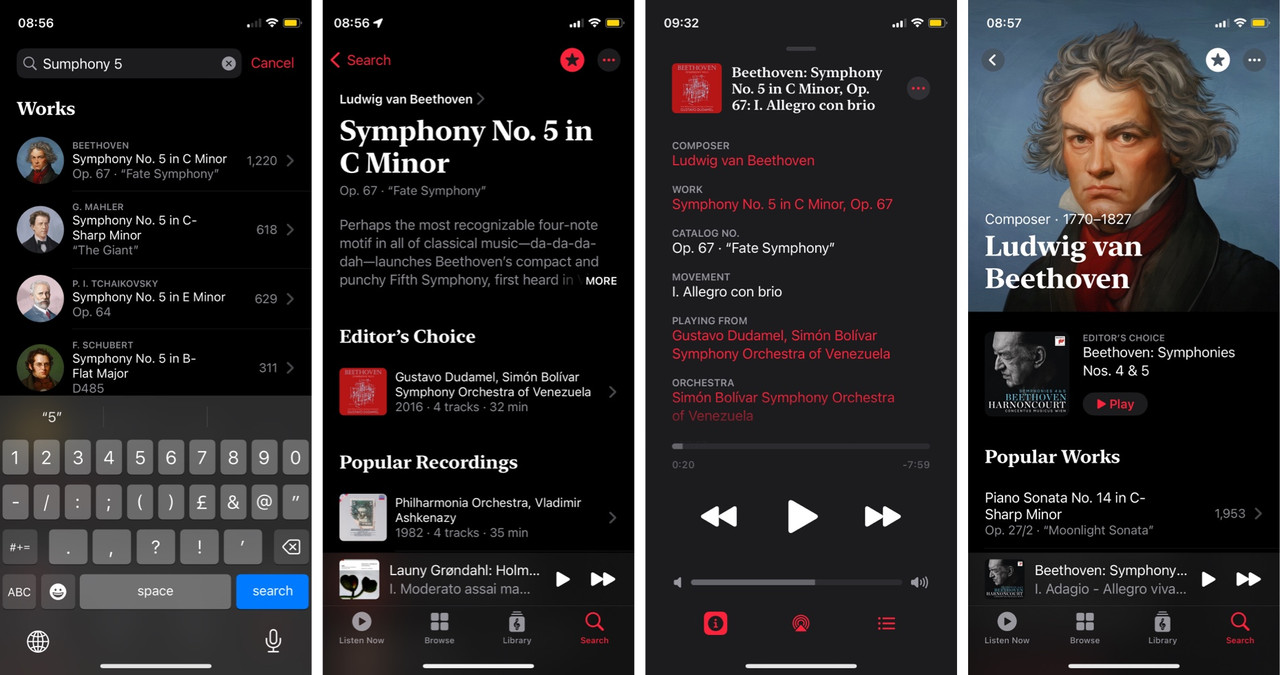 Playlists
There are times when I want to properly listen to a particular work and others when I'm just looking for music to listen to while working or having dinner. Playlists are also a great way to explore a specific aspect of classical music. In Apple Classical, I've so far found the following categories of playlists:
Periods and genres
The Story of Classical
Composer Essentials
Music by Mood
Curated by Artists
Composers Undiscovered
Instrument Playlists
Ensemble Playlists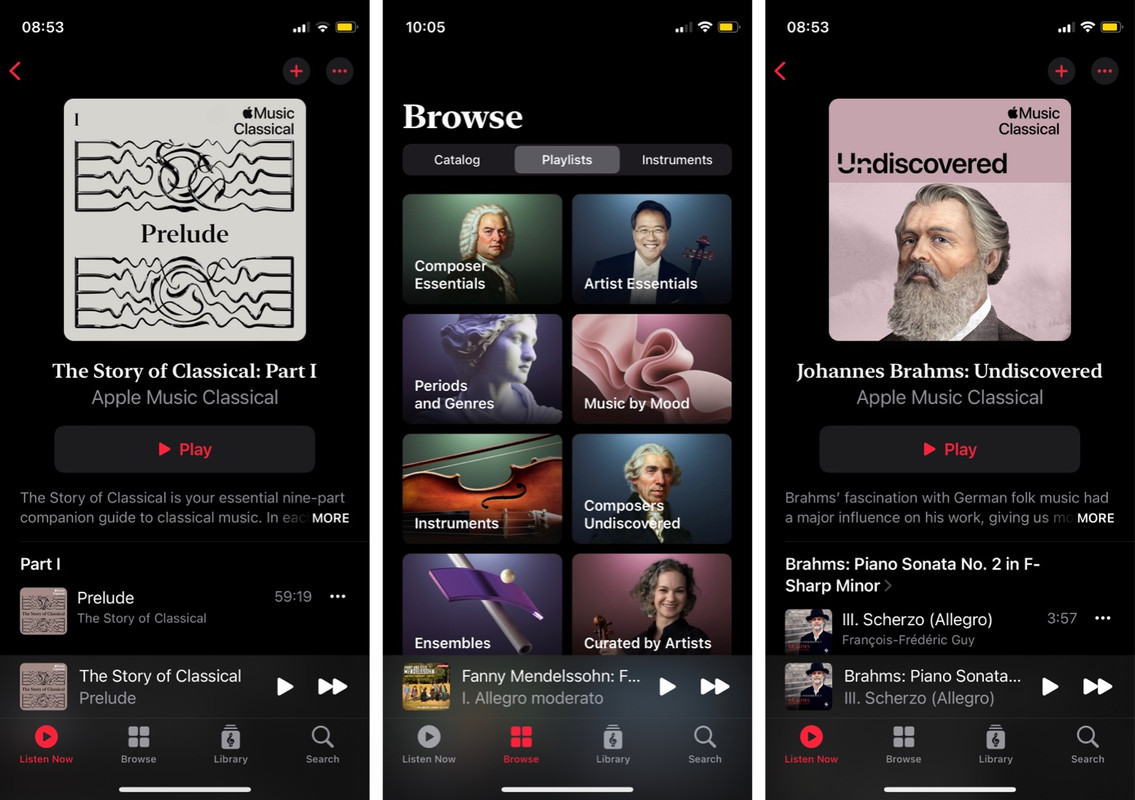 Some of these are also in Apple Music; others are new. I'm looking forward to exploring the trombone instrument playlist with my son, who is learning the instrument. Many of the playlists have some accompanying text explaining the background and purpose of the playlist.
Browsing
The browse tab is split into catalog, playlists and instruments. All of which I could spend hours exploring.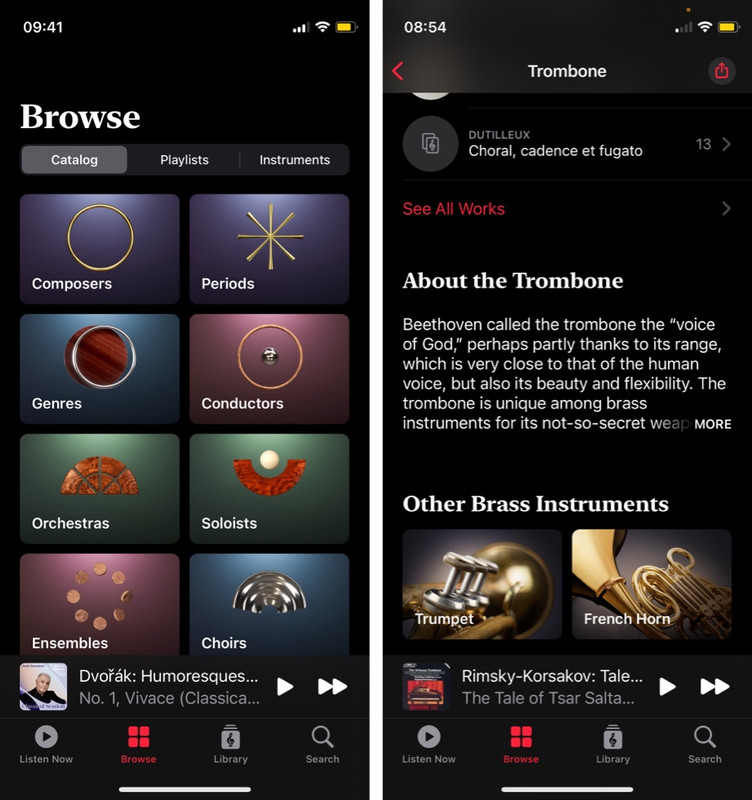 The catalog allows you to explore music by:
Composer
Periods (e.g. Baroque)
Genres (e.g. Orchestral, Chamber Music, Vocal)
Conductors
Orchestras
Soloists
Ensembles
Choirs
Many sections have a filter allowing you to sort by popularity, name and year founded. In addition, biographies are featured for many orchestras, soloists, ensembles and choirs - yet more information to read and provide ideas for further exploration.
Other noticeable features
The Library tab allows you to see what you've starred and is divided into:
Albums
Playlists
Tracks
Artists
Recordings
Works
Composers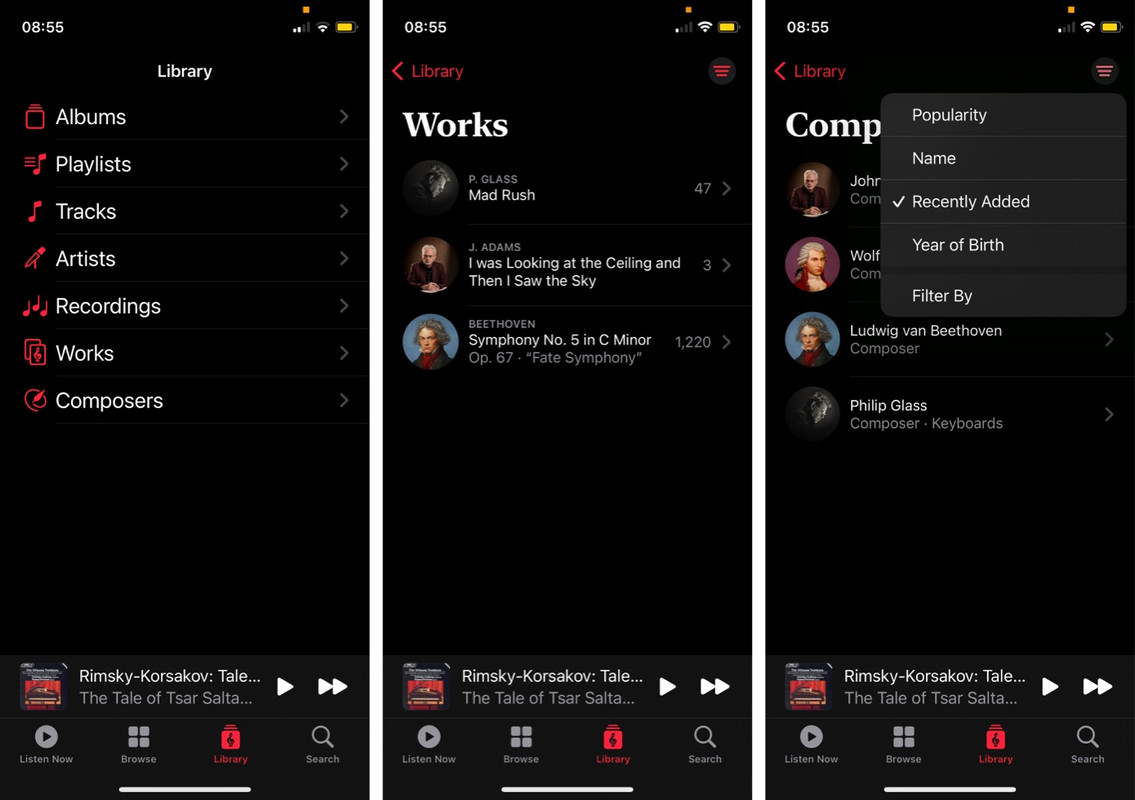 Track by Track features an artist guiding you through one of their albums. This is a fabulous way to get to know artists in more detail.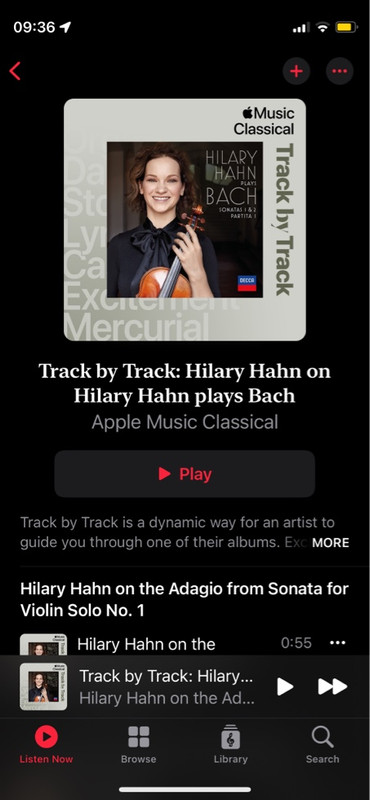 Search has suggestions to help you discover composers, works and artists.
Conclusion
I'm excited about Apple Classical. There is so much to this app, and I'm looking forward to Apple releasing this for Android and macOS - hopefully, it won't be another 12 months wait!